Ketamine: Psychiatry, Psychotherapy and/or Psychedelic
November 3 & 4, 2018
Saturday 9:30 am – 6:00 pm; Sunday 9:30 am – 4:00 pm
The Nueva School
6565 Skyline Blvd – Hillsborough, CA 94010
OVERVIEW
Ketamine has been demonstrated in numerous studies to be helpful for the treatment of severe unipolar depression, bipolar depression, chronic suicidal ideation, OCD, pain with depression, and a variety of other kinds of psychiatric disorders. In addition, ketamine is currently being studied as a possible treatment for PTSD, addiction, terminal medical diagnosis, and/or chronic relational difficulties (i.e., personality disorders).
There are many different ways of working with therapeutic ketamine. It can be administered via IV drip, IM injection, nasal, oral, transbuccal/sublingual, transdermal, and/or suppository. There are many different dosing strategies, including infusions according the NIMH/APA protocol, ketamine-faciliated psychotherapy, or purposefully inducing psychedelic journeys. Ketamine is an unique medicine with powerful visionary properties in the higher dose range.
At KRIYA Conference 2018, we will continue to talk about all of the routes of administration and all of the dosing strategies for therapeutic ketamine. However, this year there will be more emphasis on using ketamine as a tool in a psychiatry practice, ketamine-faciliated psychotherapy, and/or psychedelic ketamine journeys.
LOCATION & FORMAT
KRIYA Conference takes place in a beautiful, secluded school campus in a suburb of San Francisco. Please click here to learn more about the location.
KRIYA Conference is a hybrid between a traditional medical conference and a consultation group. There will be formal presentations as well as ample time for questions and discussion. This event has a casual and cooperative feeling by design. This year, registration will be capped in order to have a more intimate conversation.
APPLICATION & PARTICIPANTS
Click here to go to the Application form.
Anyone may apply to attend KRIYA Conference 2018. However, registration priority will be given to licensed mental health professionals (with any type of degree) who have substantial experience in working with therapeutic ketamine. We also have seats reserved for people who are in training to become a mental professional (graduate students, residents). Medical professionals from other specialties (who are not psychiatrists), and clinicians who are new to working with ketamine, are welcome at this conference as space permits.
For some applicants, we will be able to offer you a Confirmed Seat right away. Other applicants may be placed on the Wait List. We will start taking people off of the Wait List in the summer. People will be offered a Confirmed Seat based on the following criteria: goodness of fit, position on the waitlist, and geographical diversity. Because your position on the Wait List is a weighted factor, it is to your advantage to get on the Wait List as soon as possible. If you apply during the Early Bird period and you get put on the Wait List, we will gladly honor the Early Bird pricing if/when we are able to offer you a Confirmed Seat.
Your credit card information is required in order to apply for this conference. Your credit card information is stored on the secure servers at Stripe, and is not visible to the KRIYA staff. Your credit card will not be charged unless we are able to offer you a Confirmed Seat.
Every person who wishes to attend KRIYA Conference must be registered and approved before the conference. There will be no registration on-site. Registration is non-transferable. Only registered attendees are allowed on the campus during the conference for security reasons; visitors are not permitted.
FEES
The Conference Fee includes the following: attendance at the conference; parking; catered lunches and snacks on both days; T-shirt; and CME.
$795 – Regular Conference Fee
$695 – Early Bird Conference Fee (May 1 – June 1)
$595 – Conference Fee for Speakers
Free for KRIYA Crew (see details below)
Refund policy: 75% refund for cancellations prior to 9/1/18; 50% refund for cancellations prior to 10/1/18; no refunds after 10/1/18.
SPEAKING AT THE CONFERENCE
If you would like to give a talk at KRIYA Conference 2018, you need to (1) fill out the regular Application form, and (2) fill out the Speaker Application form. Speakers receive a discount of $200. There is one (1) Speaker Discount available per time slot.
CME CREDITS
We have been able to offer CME for past KRIYA Conferences, and we fully expect that we will be able to do so again this year. (CME can easily be converted into CEU for other mental health providers, if needed.)
OUT OF TOWN TRAVELERS
Please see our Travel Info page for more information about transportation and accommodations for travelers.
KRIYA CREW
Attend KRIYA Conference 2018 for free! We need a small crew of volunteers to assist with this event. We give priority to current students and trainees in a medical or mental health career path. If you would like to help in this way, please send a note to Dr. Bennett at the address below.
CONTACT US 
For any questions regarding KRIYA Conference 2018, please contact Dr. Raquel Bennett (Conference Organizer) or Peter Touchard (Administrative Support) at info@kriyainstitute.com. Thank you!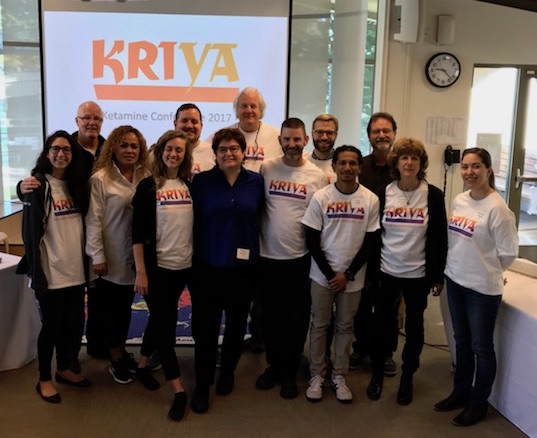 Thank you to the KRIYA Crew for 2017!
Back row: Doug, Peter, Greg, Alex, Gary
Front row: Nicole, Eme, Kristina, Raquel, Jeff, Dave, Virginia, Rosemary