KRIYA Institute is proud to present…
KRIYA Ketamine Conference 2017
November 4 & 5
9:30 am – 6:30 pm
The Nueva School
Hillsborough Campus – 6565 Skyline Blvd – Hillsborough, CA 94010
The conference site is peaceful and beautiful.
OBJECTIVES
– The purpose of this meeting is to discuss ways of using ketamine as a treatment for depression (and other psychiatric disorders), and/or as an adjunct to psychotherapy.
– This is a multi-disciplinary meeting that aims to bring clinicians together from different specialities to share what we know about working with ketamine, and to help each other provide excellent and thoughtful care to our patients.
– This meeting is also a forum for researchers and clinicians to exchange information; to generate new questions for research; and for clinicians to learn about the latest research findings.
– Ketamine treatment has medical, psychological, and spiritual components. All of these aspects will be addressed in this meeting. We will talk about a variety of dosing strategies and routes of administration. The legal and logistical issues related to working with ketamine will also be discussed.
SETTING & FORMAT
The KRIYA Ketamine Conference takes place in a beautiful, secluded setting. It is a hybrid between a traditional medical conference and a consultation group. This event has a casual and cooperative feeling by design, and registration will be capped in order to foster a safe and intimate environment. View the schedule from KRIYA Conference 2016 to get a sense of the topics that were discussed last year.
WHO MAY ATTEND?
This conference is geared toward medical and mental health professionals who have substantial experience in working with ketamine, and researchers who are are studying ketamine (or a closely related medicine).
Clinicians who are in the process of adding ketamine services to their practices are also welcome, as space permits. Some seats will be reserved especially for residents and graduate students.
REGISTRATION
If you wish to attend the KRIYA Ketamine Conference, please fill out the Registration form. Your Registration information will be sent to the Event Organizer for approval. It typically takes 7 days for us to review your Registration information and email you back.
Note that your credit card information is required in order to register for this conference. Your credit card information is stored on the secure servers at Stripe, and is not visible to the KRIYA staff. Your credit card will NOT be charged until AFTER you are offered a Confirmed seat and any relevant discounts have been applied.
We are able to offer a Confirmed seat to most people who want one, but in some cases, we may need to put people on the Wait List. People on the Wait List will be offered a Confirmed seat based on space available, the date of Registration, and goodness of fit. We will not charge your credit card until after you are offered a Confirmed seat! Also, we will gladly honor the Registration fee that was in effect on the day that you completed the Registration form.
Every person who wishes to attend the KRIYA Ketamine Conference must be registered and approved BEFORE the conference. There will be no registration on-site. Registration is non-transferable. Only registered attendees are allowed on the campus during the conference for security reasons; visitors are not permitted.
FEES
$495 – Early Bird Registration – SOLD OUT
$695 – Regular Registration – SOLD OUT
* Speaker Discount is $200 off of Registration Fee * – SOLD OUT
The fee includes attendance at the conference, parking, lunches and snacks on both days, and CME.
Refund policy: 90% refund for cancellations prior to 10/05/17; no refunds after that date.
CME CREDITS
We are delighted to announce that we are able to offer 16 CME for attending KRIYA Conference.
This activity has been planned and implemented in accordance with the accreditation requirements and policies of the Accreditation Council for Continuing Medical Education (ACCME) through the joint providership of PeerPoint Medical Education Institute and the KRIYA Institute. PeerPoint Medical Education Institute is accredited by the ACCME to provide continuing medical education for physicians. PeerPoint Medical Education Institute designates the live format for this educational activity for a maximum of 16 AMA PRA Category 1 Credits (TM). Physicians should only claim credit commensurate with the extent of their participation in the activity. All presenters, planners, editors, or staff reported no relevant relationships: I, or an immediate family member, do not have at present, or within the last 12 months, nor anticipate having financial interest, arrangement or affiliation with any organizations that could be perceived as a real or apparent conflict of interest in context to the design, implementation, presentation, evaluation, etc. of CME Activities.
SPEAKING AT THE CONFERENCE
If you would like to give a talk at the conference, you need to (1) fill out the Registration form, and (2) fill out the Speaker Application form. We are delighted to offer a discount of $200 to our speakers this year. There is one (1) Speaker Discount available per time slot. You are welcome to use the Speaker Discount in addition to the Early Bird Discount.
LOCATION
Check here about a month before the conference to get information about parking and directions.
ACCOMMODATIONS
Attendees are responsible for arranging their own travel and accommodations. There are multiple hotels located in Burlingame near the San Francisco airport (SFO). Many of the hotels have free shuttles between the airport and the hotel, and you can use Uber to get from the hotel to the conference site, so renting a car is not really necessary. We recommend that you make your hotel reservations as soon as possible, because the Salesforce conference will also be in San Francisco that week, and hotels are booking up quickly.
KRIYA CREW
Attend the conference for free! We need a small crew of volunteers to assist with this event. If you would like to help in this way, please send a note to Dr. Bennett at the address below.
CONTACT US 
For any questions regarding the KRIYA Ketamine Conference, please contact Dr. Raquel Bennett (Event Organizer) at info@kriyainstitute.com. Thank you!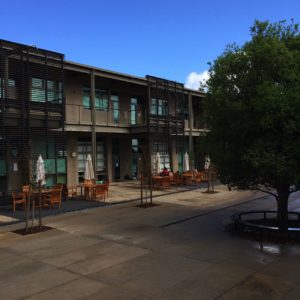 Courtyard outside of the library, at the end of the day.
Conference guests relaxed and ate lunch in the courtyard last year.