KRIYA Conference is the first and the largest conference in the world devoted solely to therapeutic ketamine. It is an annual event which takes place in the beginning of November in the San Francisco Bay Area. There have been three KRIYA Conferences to date (in 2015, 2016, and 2017), and a fourth one is planned for 2018.
KRIYA Conference is devoted to understanding ketamine as a treatment for depression, pain, and a variety of other psychiatric and/or psychological concerns. It is a multi-disciplinary meeting for physicians and mental health professionals and researchers to exchange information about working with ketamine. We discuss ALL of the routes of administration for ketamine: IV, IM, oral, nasal, transbuccal, transdermal, and suppositories. We also talk about ALL of the dosing strategies for ketamine: low-dose infusions following the NIMH/APA protocol; moderate doses for ketamine-facilitated psychotherapy; and high-dose injections to intentionally induce psychedelic visions.
Please browse this website to see photos and the list of speakers from past KRIYA Conferences. If you would like to participate in KRIYA Conference 2018, please join our mailing list.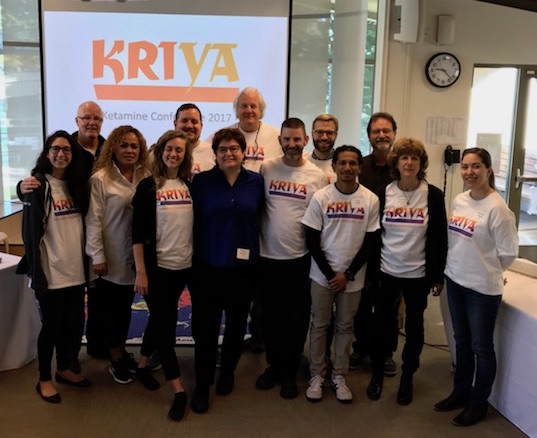 Thank you to the KRIYA Crew for 2017!
Back row: Doug, Peter, Greg, Alex, Gary
Front row: Nicole, Eme, Kristina, Raquel, Jeff, Dave, Virginia, Rosemary